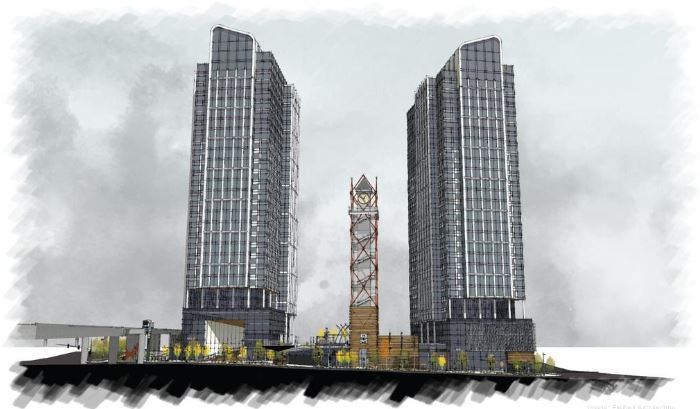 This preliminary drawing shows the proposed Bellevue Straits development. The design will more than likely change, according to developer Legacy Cos. The clock tower, for instance, is no longer part of the design.
Freiheit Architecture
Legacy Cos. is proposing its largest development to date, a 1.2 million-square-foot mixed-use office project called Bellevue Straits.
Planned for a site along Interstate 405 on the 500 block of Northeast Sixth Street, the two-tower project would be just over 400 feet tall in an "an open, park-like atmosphere," said Legacy Managing Broker Walter Scott.
It's among several office project proposals in Bellevue, where Amazon is expanding.
Scott said Bellevue Straits will tie into the city's Grand Connection trail and benefit from the project's proximity to the downtown light-rail station, which is scheduled to open in 2023.
"A lot of things connect here," Scott said, adding this is the genesis of the Straits name: "It brings to mind a small area of access relative to the sheer volume between ebb and flood tides."
In addition to the rail stop and the Grand Connection — the planned pedestrian-and-bicycle trail from Meydenbauer Bay Park through downtown and over Interstate 405 to the Wilburton area – the development site is among the network of downtown's freeway on and off ramps.
While no final decision has been made how the Grand Connection will cross over the freeway 405, the City Council has directed staff to pursue a "lid park" over the freeway.
"The only way (that) will work is to go directly across our site," said Scott, who thinks it adds up to an opportunity for some company to have a high-profile campus.
In Bellevue, "some company" these days tends to mean Amazon, which has leased but not yet moved into 1.5 million square feet of downtown office space and plans to build and already owns about another 1.1 million square feet. Amazon currently leases Centre 425, where it has space for an estimated 2,000 employees.
Marc Stiles